When you're out on the open road, traveling with your family, trailer in tow, you want the safest towing experience possible. Trailer sway is one of the leading causes of accidents involving trailers and can often be the reason people decide to put their trailers away for good. If you've ever experienced significant trailer sway, you know how scary it can be when you feel your trailer start to sway. With a Sway Control Weight Distribution Hitch like SwayPro by Blue Ox, you can prevent trailer sway before it starts. Take a look at the ways SwayPro weight distribution hitch is safe and user-friendly. 
1. Prevent Trailer Sway Before It Starts
The SwayPro weight distribution hitch is one of the best trailer sway prevention products on the market today. SwayPro's spring bars prevent conditions on the road from causing sway: rough pavement, wind from passing vehicles, wind caused by weather, and winding roads. When these conditions are present, one of the spring bars becomes more loaded than the other, forcing the trailer to stay centered behind the towing vehicle. SwayPro is computer designed and geometrically optimized, ensuring high-quality weight distribution and sway prevention without hitch head adjustments. 
2. Easy To Install and Operate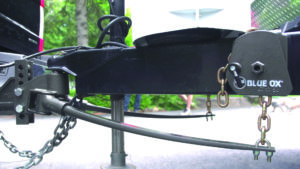 SwayPro is easy to install and is designed with the user in mind, which means hookups are a breeze. Self-locking spring bars slip in and latch by simply rotating the bar 90 degrees with no additional clips or pins. Additionally, the sway control mechanism is built into the open design head, allowing easy access to tighten the hitch ball. Every SwayPro comes with detailed and easy-to-follow instructions on how to install SwayPro. You will also want to refer to the owner's manual for your specific vehicle to ensure proper hitch set-up instructions. Each SwayPro owner's manual has a troubleshooting guide if you happen to have additional questions. You can also contact Blue Ox support to get answers to any further questions you may have. 
3. Back-Up Without Disconnecting
While many weight distribution hitches require you to disconnect before you can back up, SwayPro makes it easy with no need to unhook prior to backing up. Whether you have decades of experience or are still learning to back up with a trailer connected, it can be quite challenging! Skipping the need to disconnect the weight distribution hitch can save you a lot of time and headaches and allow you to focus on getting into the best position for backing up with your trailer. 
4. Use SwayPro In All Weather Conditions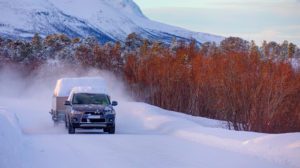 Another way that SwayPro is user-friendly is that it can be used in all weather conditions, including rainy or snowy weather. Weather is one of the most common causes of trailer sway. Gusting winds from a storm, wet roads from rainy conditions, or ice and snow on the road's surface can all contribute to trailer sway. Friction devices can stop working in wet weather conditions like rain or snow. However, since SwayPro functions differently than a friction anti-sway bar, it can be used in all driving conditions. 
5. SwayPro Is Compatible With Most Vehicles
No matter what towing vehicle you are driving, it is easy to determine which SwayPro is right for you! SwayPro is compatible with a variety of vehicles ranging from ¾ ton pickups to minivans, meaning you may not need to purchase a separate vehicle just for towing. You will need to determine your hitch shank height to know whether you need the standard hitch shank, S-Series hitch shank, or Heavy-Duty hitch shank. You will then need to identify the type of coupler on your trailer. If your trailer happens to have a coupler welded under the frame, there is an Underslung Hitch Head that will accommodate. The last step is to determine the tongue weight of your trailer after it is loaded using either a vehicle scale or a TW scale. This will allow you to choose the correct spring bars. 
6. SwayPro Has Interchangeable Spring Bars
SwayPro has interchangeable spring bars because we know that your Total Trailer Weight will not always be the same. If your TTW changes in the future, SwayPro has various spring bar options, so you can easily purchase the proper spring bars and swap them out as needed depending on what you're hauling. There is no need to buy an entirely new SwayPro system which will save you money and give you flexibility in what you tow. 
7. Safe And Reliable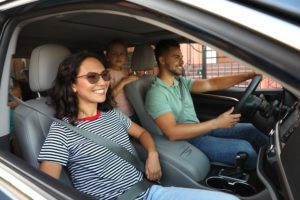 SwayPro is one of the safest ways to prevent trailer sway. While it is still important as a responsible driver to know what to do when trailer sway starts, having SwayPro installed will give you peace of mind when you're out on the open road. Using other sway control options like friction sway control, you may still experience trailer sway. Friction sway control devices only slow down the trailer sway but don't work to bring the trailer back to the center behind the towing vehicle. With SwayPro, the trailer sway is stopped before it starts. 
8. Limited Lifetime Warranty
Blue Ox stands behind the quality of their products, so SwayPro comes with a limited lifetime warranty to keep you safe on the road for years and years. You get the peace of mind that your SwayPro will be free from defects in the material and workmanship of the product with normal use and service for as long as the original purchaser owns the product. During this time, you can get repairs or replacements if your SwayPro is found to be defective. 
Trust In The Blue Ox SwayPro
If you are ready to travel using one of the most trusted weight distribution hitches in the country, contact us today to discover all of the ways SwayPro is user-friendly for yourself. The SwayPro trailer sway prevention system is the most user-friendly weight distribution hitch on the market today. Join the other 65% of cars on the road that rely on Blue Ox trailer sway control solutions for their safety, performance, and reliability. Please contact our Customer Service staff if you have any queries about ordering a SwayPro or any other Blue Ox product.