Many RVers prefer flat towing, or pulling a vehicle with all four wheels down, and it's easy to understand why. When traveling in an RV, once you reach your destination, having a separate vehicle gives you the versatility and freedom to explore. Plus, tow bars are quick and easy to connect and disconnect, and the equipment required takes up very little room. So what vehicles can be flat towed and how do you determine if your car is one of them?
What is Flat Towing?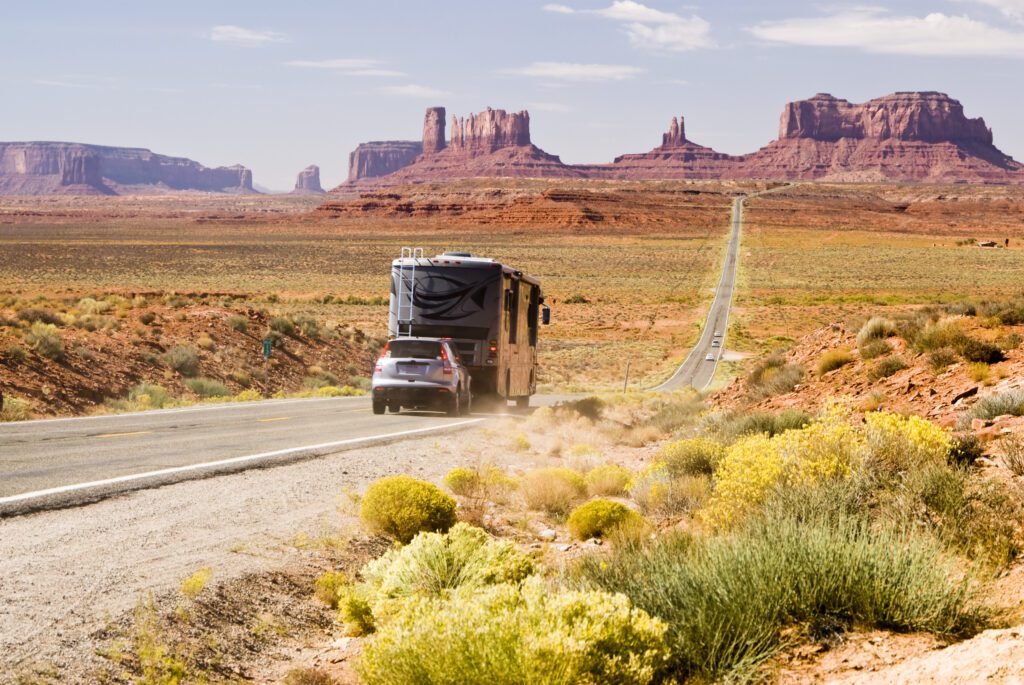 Flat towing, also referred to as "dinghy towing" or "four-down towing," is a way of towing your car with all four wheels on the ground behind your RV. The tow vehicle is connected to the RV by a tow bar and simply follows you as you drive. 
Can My Car Be Flat Towed?
The list of vehicles that were safe for flat towing used to be much longer. Unfortunately, not all modern cars can be flat towed. If you try towing a vehicle that isn't suited for flat towing you are likely to cause significant damage to the transmission; aka a very expensive repair to make. 
Does Your Vehicle Have a Manual Transmission?
If the vehicle you plan to flat tow has a manual transmission, you may be just fine. Many front-wheel drive, manual transmission vehicles may be flat towed without modification. Typically, a car with rear-wheel drive and a manual transmission or four-wheel drive with a manual transfer case that can be placed in neutral can be flat towed. Checking the owner's manual is the best way to check if a vehicle is suitable for flat towing. Almost every manufacturer explicitly indicates in the towing or recreational towing part of every model's handbook whether it may be towed on all four wheels or whether it must be hauled on a flatbed trailer or towed with a dolly with the driving wheels off the ground.
What If My Vehicle Doesn't Have a Manual Transmission?
Fewer vehicles are manufactured with manual transmissions these days. That, paired with the rise in the number of vehicles equipped with continuously variable transmissions (CVTs), front-wheel drive, and full- and part-time four-wheel-drive systems has reduced the list of vehicles safe for flat towing to be much shorter. Vehicles equipped with a CVT cannot be hauled with all four wheels on the ground because the transmission would be damaged. If you are pulling that type of vehicle behind your RV for hundreds of miles, the driveshaft is turning and causing damage along the way. 
Can I Modify My Car for Flat Towing?
If you have a vehicle that doesn't fall under the category of "safe for flat towing" you may be able to make modifications that will allow for flat towing. There are aftermarket add-ons that may be installed to some automatic transmission vehicles. However, these can be costly and difficult to install and maintain. Also, if they are not used properly, the engine or drivetrain components of a vehicle might be damaged while being towed which could affect your vehicle's warranty. If you're shopping specifically for a towable car, you are better off prioritizing one that is manufacturer approved for flat towing. Otherwise, have a professional help you make any modifications. 
Things To Check Before Flat Towing
Once you know what vehicles can be flat towed, there are a few other things you will need to consider. 
The majority of vehicles have steering locks activated by the ignition switch. A vehicle can't be safely towed if the front wheels won't turn! To unlock the steering, the key must be in the ignition and the ignition set to the accessory position.

Some cars and SUVs that can be flat towed require the removal of certain fuses. A handful of four-wheel-drive trucks equipped with automatic transmissions must be pulled four-down with their transmissions in park and transfer cases in neutral.

Don't assume that just because past models of a vehicle were safe for flat towing, that newer models will be as well. Technology in vehicles changes, so it's important to check for the specific year and model of vehicle you want to flat tow. 

Most states require flat-towed vehicles to have auxiliary braking systems that function in combination with the motorhome's brakes. Smart RV owners who tow a car or truck understand that, even in places where they are not required, auxiliary brake systems are vital for safety.
What Vehicles Can Be Flat Towed?
Does your vehicle make the cut? The following list includes some of the most popular vehicles RVers choose to flat tow. As always, remember that this list may only be for select years, so check with the owner's manual to confirm. 
Buick Enclave

Buick Envision

Cadillac SRX

Chevrolet Colorado 4X4

Chevrolet Equinox

Chevrolet Silverado 4X4

Chevrolet Sonic

Chevrolet Tahoe 4X4

Dodge Durango AWD

Ford Expedition 4X4

Ford Explorer

Ford F-150 4X4

Ford Fiesta

Ford Focus

GMC Acadia

GMC Canyon 4X4

GMC Sierra 4X4

GMC Terrain

Honda CR-V

Jeep Cherokee 4X4

Jeep Grand Cherokee 4X4

Jeep Wrangler JK 4×4

Jeep Wrangler JL 4×4

Jeep Wrangler TJ 4X4

Lincoln MKX

Lincoln Navigator 4X4

Mini Cooper

Ram 1500 4×4
Which Flat Tow Vehicle Is Best For You?
If you're planning on purchasing a vehicle specifically for flat towing, it's important to consider what type of vehicle is going to fit your needs best. Of course, you will want to consider the price you can afford, but also think about what you will need your vehicle to do when you're driving it around. Do you need room for the whole family? Do you plan on going off-road? Or do you simply need to be able to run and get groceries? 
Flat Towing a Car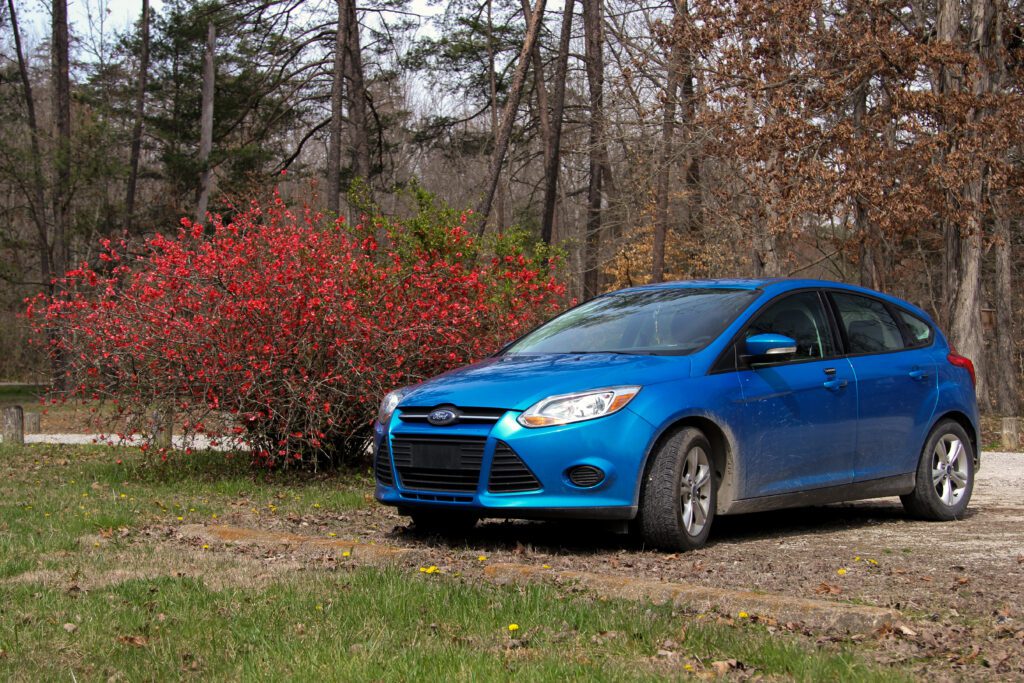 A compact or subcompact car is one of the smaller and more lightweight vehicles you can flat tow behind your RV. There are tons of benefits to choosing to bring along a car like the Chevy Sonic or Ford Focus. You aren't flat towing an overly heavy vehicle like an SUV or truck, but you still get the convenience of having a car with you to go out and explore. If you are purchasing a vehicle specifically for flat towing, a car will likely be the most affordable option as well. 
Flat Towing a 4×4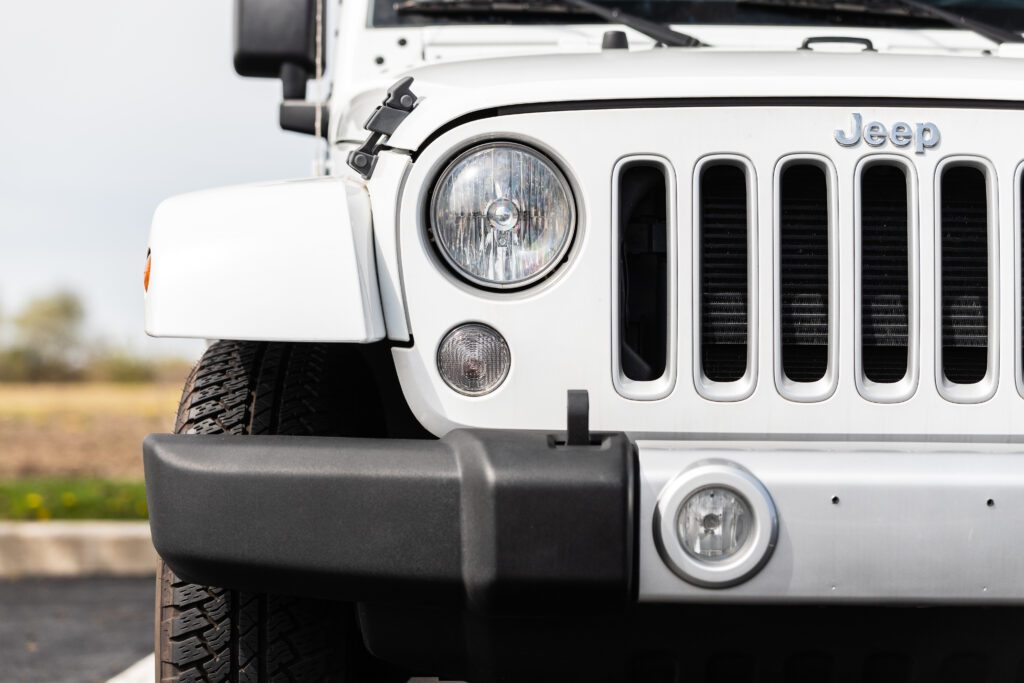 A 4×4 like the Jeep Wrangler is one of the most popular vehicles for flat towing. They are great to have along on your RV trip because they are ready for any offroad adventures, a big plus for those who like to travel off the beaten path. The Jeep Wrangler is easily flat towed, and once you're ready to drive it around, you can remove the top or doors to really up the fun factor when you're out exploring. 
Flat Towing an SUV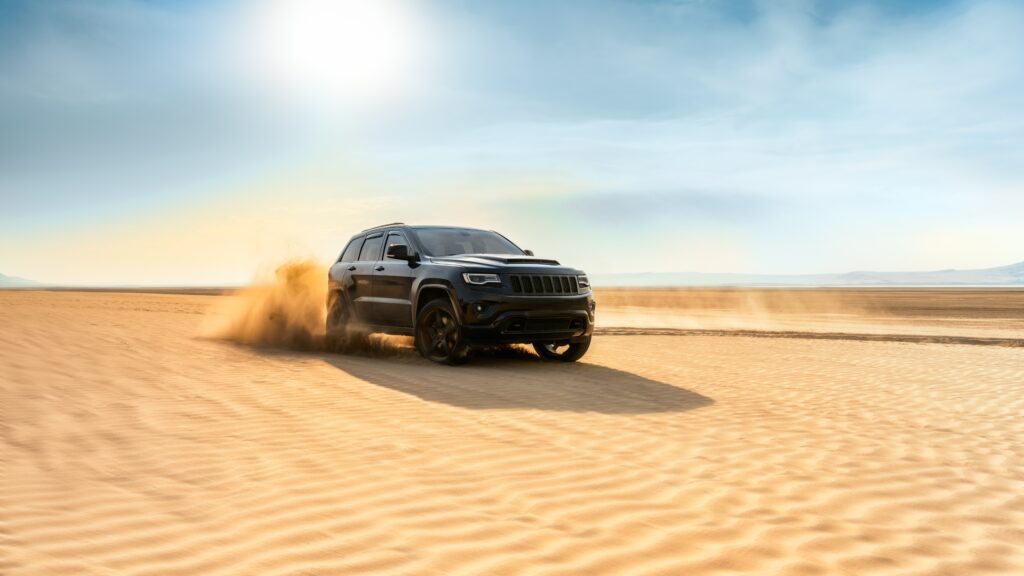 If you have a bigger crew along on your RV trip and need some additional room when using your flat tow vehicle, an SUV might be the best option. They are spacious, with additional room for whatever you need to stow in the back, like groceries, a cooler, chairs, and more. Flat towing an SUV like the Jeep Grand Cherokee also means you still get some off-road capabilities, so your fun isn't limited. 
Flat Towing a Truck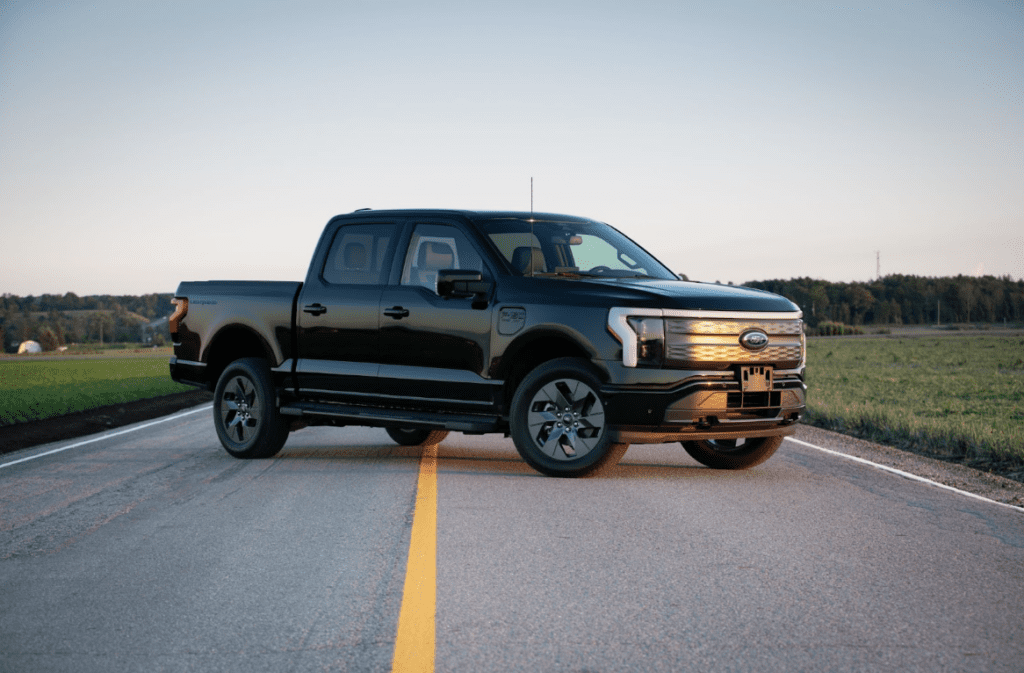 When you choose to flat tow a truck, you get the benefit of tons of cargo room in the bed while still having the ability to zip around town, see the sights, or go off-road. You can also put the tailgate down while at your RV site and get some extra places to sit or store outdoor items. One of the most popular trucks for flat towing is the Ford F-150. 
Benefits of Flat Towing
While you can tow just about any vehicle behind your RV if you use a tow dolly or a four-wheeled trailer, there are many downsides to these methods. There is a cost associated with purchasing and maintaining a trailer or tow dolly. Additionally, there is a need for storage space for these large pieces of equipment at home and at the campsite when not in use, as well as the extra effort required to get the towed car on and off them. This is why many people opt for flat towing, which only requires a few pieces of equipment that are small and easy to store when not in use. It will also save you time and energy once you are at your destination when you're ready to hop in your vehicle and go sightseeing or make a supply run. 
Pro Tips For Flat Towing
If you're flat towing for the first time, or it's been a while since you've flat towed a vehicle behind your RV, here are some pro tips to help you do so safely. 
Never Back Up With Tow Bars Attached
It can be tempting to back up your RV and straighten out just a little bit when you're trying to get into your spot or in and out of a gas station, but you should never back up with the tow bars and vehicle still attached. Doing so will likely bend the tow bars, cause them to become jammed, damage your RV, and cause damage to your tow vehicle. So if you need to back up your RV, just disconnect first. You will be glad you did. 
Use a Tow Brake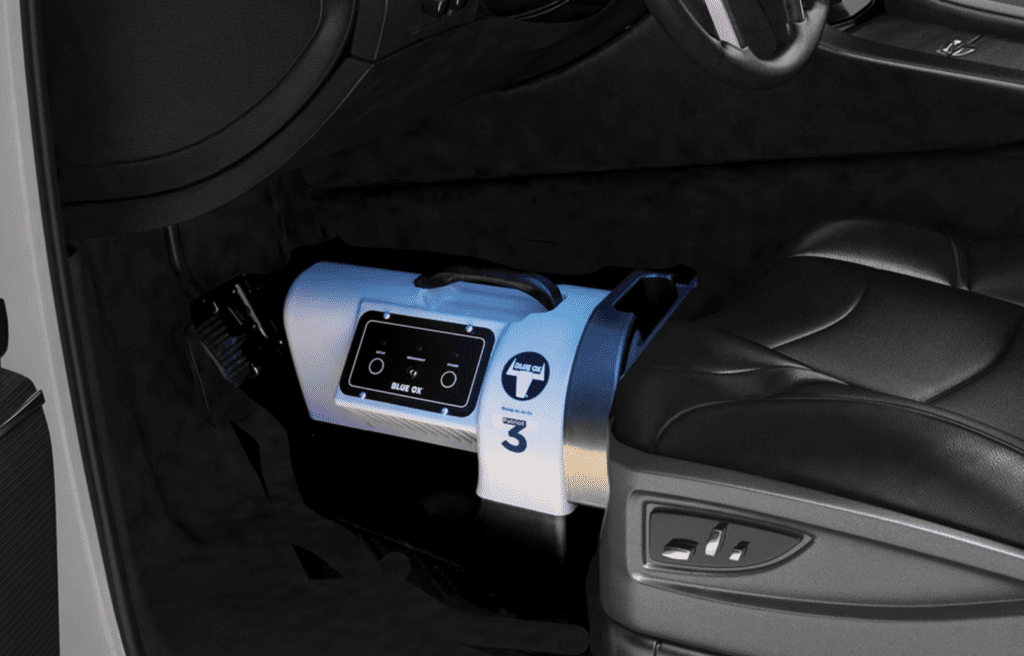 Also called a dinghy towing brake, a flat tow brake is an important piece of equipment when flat towing. This device will apply the brakes in your flat tow vehicle when you apply the brakes in your RV. This is important because it helps you stop sooner by not putting all of the responsibility of braking on the RV. A tow brake could be the difference between stopping in time or getting into an accident. It is also the law to have a tow brake installed when traveling across the United States and Canada. Laws can vary from state to state, but chances are, somewhere you are passing through will require you to have a tow brake installed. 
Get The Top Rated Tow Bars from Blue Ox
Blue Ox offers tow bars to meet all of our customer's needs, with towing capacities ranging from 6,500 to 15,000 lbs and accessories to make hooking up easy. Blue Ox tow bars premium models feature 2" longer legs to allow more room between your RV and vehicle. Patented non-binding latches quickly disconnect even in the most rugged terrain. Blue Ox baseplates set the standard in the industry with removable tabs that give a clean OEM look when not in use. With the addition of the Patriot Brake, you can travel with confidence that you are compliant with towing regulations and that you reach your destination safely. Order yours today.